Sheetmetal layout and individual bespoke unit design and manufacture for commercial catering and veterinary sites.
Design
We have extensive experience of stainless kitchens for the catering trade, we are more than happy to assist with the overall layout and individual unit design. If you have an idea to discuss or a problem to solve then we can help you to design your solution.
Manufacture
Our expertise is in producing items you require from sheet metal, although items such as castors and electrical fittings are bought in. We can make sink bowls to your own specification if you wish, although using standard size bowls will reduce cost.
We also like challenges, and pride ourselves on the motto 'if you can imagine it then we can make it'.

Bar Work
Whether your requirements for a bar is large or small Vision Sheetmetal Work can design and manufacture a stylish bar perfectly suited to your design and practical requirements. Our stainless steel bar offers hygienic and stylish solutions and are fabricated to compliment the aesthetics of your interior scheme. We are also able to offer stainless steel underbar systems.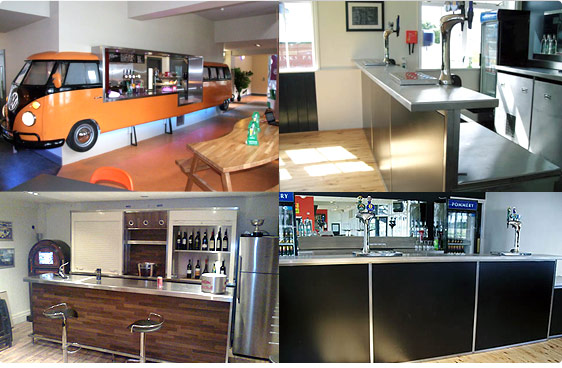 Sinks
Catering, domestic, single bowl, double bowl, left-handed, right-handed and special cut-outs are all possible and common requests, as are those for made-to-measure and unusual designs.

Veterinary
Stainless steel is hygienic, durable and easy-to-clean, and is extensively used in field of veterinary science. We manufacture mobile instrument and operating tables and made to measure kennel gates in heavy duty stainless. These have proved to be highly effective and popular.
We are confident we can cater for any other requirements which you may have. Just ask.
Wall Hung Stainless Steel Urinal Troughs
Stainless steel urinal troughs manufactured from 1.2mm thick stainless steel with a satin polished finish.
These stainless steel urinals are supplied with polished ends, a top entry vandal resistant horizontal sparge pipe flushing system, stainless steel downpipe and clips, 38mm waste fitting left right or centre and comes with brackets to suit. Urinals available in other sizes.
Other products available
Sheetmetal Workers & Bespoke Fabrication
Ventilation Specialists
Heated & Refrigerated Counters
Filters
Bar Work
Sinks
Tables
Shelving & Wall Cladding
Quartz Lamp Gantry
Attenuators
Available in varying lengths and designed to silence the noise of extractor fans while bearing high temperatures.
Dampers
Aimed principally at the industrial exhaust world.
Fans
From small scale commercial fans right through to heavy power extraction fans capable of high extraction rates.
Fixing & Supports
A full selection of all the necessary components to fix and fit duct systems.
Flexible Ducting
Ideal for upgrading existing ventilation systems where the systems need to fit into an existing location or building.
Grille Boxes
Galvanised steel grille boxes offering varied interfaces including flanged side entry and top entry grille boxes.
Grilles & Louvres
Full range of metal and plastic louvres and grilles across double and single louvres.
Sealants, Tapes & Flashings – a large choice in the specialist finishing items for ventilation and extraction systems.
Spiral Tubes & Fittings
Angled tubes covering a span of pre angled dimensions and available in male and female counterparts to create elbowed tubing.
Please enquire if you need something else.
Contact us now with your request on 0131 665 7193 or email
info@visionsheetmetalwork.co.uk